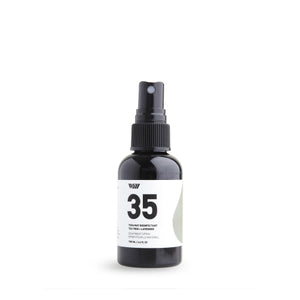 Way Of Will Yoga Mat Spray
Regular price
Sale price
$14.00
---
Trying to find a yoga mat cleaning spray that's natural and kind to the skin? Meet 35 yoga mat spray and equipment spray. Whether you're looking to clean gym equipment like dumbbells or the treadmill or wipe down your mat after hot yoga, you'll love our yoga mat cleaner with essential oils. You know what it's like. You go to the gym or yoga studio to work out and lead a more healthy lifestyle. Then, to keep the gym clean and be considerate of the other users, you meticulously wipe down the equipment you used.
As you spray, the stench of chemicals fills the air. That state of relaxation you found during the yoga class suddenly drifts away. It doesn't need to be like that. Our yoga mat cleaning spray takes advantage of both the antibacterial and meditative properties of essential oils to give you a holistic way to clean your equipment. 35 yoga mat spray features pure grade lavender essential oil, tea tree essential oil, distilled water, and other natural ingredients.
Simply spray it on your yoga mat or gym equipment to kill all germs and keep things hygienic. As well as relaxing your mood with its delicate scent, it gives you peace of mind that your equipment is always sanitary. Say no to chemical-laden sprays and welcome the power of nature into your gym routine. Our products are made with 100% pure grade essential oils to bring you nature's potency. They're packaged into black bottles to prevent sunlight damage and promote longevity.
Next time you go to the yoga studio or gym, make sure to put the yoga mat cleaning spray in your kit bag.
Why We Love Yoga Mat Spray?
100% natural pure-grade yoga mat spray
Made with pure grade

 

lavender

 

and

 

tea tree essential oils, distilled water, and other natural ingredients.
Fresh and relaxing fragrance
Naturally antibacterial and anti-fungal to clean away bacteria, germs and gently deodorize
Tea tree essential oil contains natural anti-fungal, bactericidal, parasiticidal, and antiseptic properties
Lavender essential oil acts as an effective antiseptic, bactericide, and insecticide
Travel-friendly bottle to quickly pop in gym bag
Black packaging to prevent sunlight deterioration
How to use 35 Yoga Mat Spray?
Have a clean, fresh, and relaxing workout routine using our yoga mat cleaner with essential oils. Here's how to use it!
Daily yoga mat clean
After your practice, use the yoga mat spray liberally to clean your yoga mat and wipe it down with a damp cloth. Wait a few moments for it to dry before you roll it up and take it home or put it back where it belongs. Now, you can relax knowing your yoga mat is clean for your next session and enjoy its soothing fragrance.
Deep yoga mat clean
If your yoga mat has been neglected for quite some time, it'll need more than a quick spritz of your yoga mat spray. Instead, give it some care with a deep clean. Use the yoga mat cleaning spray liberally over the mat and leave it to soak for up to 10 minutes so the essential oils can get to work. Use a damp sponge to scrub the surface and remove all dirt and stains. Then, wipe it down again with a clean cloth and leave it to air dry.
Post-workout meditation
If you work out in the evening, bring your energy down before leaving the gym. After spraying your mat with the yoga mat cleaner with essential oils, sit beside it, clothes your eyes, and meditate for 5 minutes. Lavender is renowned for its relaxing properties that signal to your body that it's time to settle down for the evening.
Clean equipment in the public gym
When you work out at the gym, hundreds of people could have touched the equipment on the same day. But we all know that those equipment cleaners are filled with chemicals. Plus, the bottle is touched by just as many people as the equipment. Take your own all-natural yoga mat spray to clean the equipment before you use it, and work out without thinking about germs.
Keep at-home gym equipment clean
Love home workouts? Doing a 30-minute HIIT workout on YouTube is a great time saver. But how many of us take the time to clean our dumbbells afterward… If you're guilty of neglecting yours, then a bottle of yoga mat cleaning spray is just what you need. Its gorgeous scent will encourage you to keep those kettlebells clean!
Yogis and gym-goers, there's finally a way to keep your equipment clean without inhaling intoxicating chemicals. 35 Yoga Mat Spray is your ideal solution. Pure grade lavender essential oil, tea tree essential oil, distilled water, and other natural ingredients come together for a relaxing and antibacterial yoga mat cleaning spray.
Use it before your workout and after for peace of mind that your equipment is clean and to feel its motivating effects. Unlike traditional gym sprays, our yoga mat spray is made with the nourishing power of nature and contains zero chemicals. Experience 100% pure essential oils while you work out.
35 Yoga Mat Spray FAQ
Q1: What's the best way to clean a yoga mat?
We recommend using a yoga mat cleaner with essential oils to enjoy both its cleansing and relaxing benefits. Our 35 Yoga Mat Spray is ideal for gym-goers and yogis alike.
Q2: How often should I clean my yoga mat?
You should clean your yoga mat after every session to keep it sanitary. If you've not cleaned your yoga mat in a while, simply follow the directions for a deep clean.
Q3: Will essential oils damage my yoga mat?
The yoga mat spray is expertly formulated to be gentle enough to prevent any damage to your yoga mat.
Q4: How is traditional gym equipment spray damaging?
Traditional gym equipment spray is packed full of chemicals. If you consider the nature of your yoga practice, you spend a lot of time with your skin directly on the mat and your face close to it. Not only does this give the chemicals a lot of opportunities to seep into your skin, but it also makes it possible for you to inhale the toxic ingredients.
---