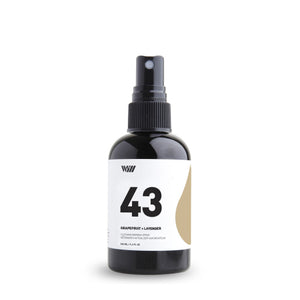 Way of Will Fabric Disinfectant Spray
Regular price
Sale price
$14.00
---
Looking for an all-natural fabric disinfectant spray? Your search is officially over because we've lovingly formulated an effective cloth disinfectant spray with pure-grade essential oils.
Whether you're a gym bunny needing to keep workout clothes fresh between sessions or you notice your coat smelling stale during a busy day, you need this disinfectant spray for clothes. Tough on odours but gentle on skin, this formula is 100% safe, causing 0% harm due to no added chemicals. Beautifully scented lavender and grapefruit essential oils infuse fabric with a natural fragrance that boosts confidence and wellbeing.
Lavender essential oil detoxifies with natural antibacterial properties and is the perfect ingredient for a disinfectant clothes spray. Zingy-fresh grapefruit essential oil possesses anti-fungal and antimicrobial properties and is a powerful way of keeping germs at bay. When blended, lavender and grapefruit essential oil have amazing bacteria-busting effects with a vibrant aroma that gives you that laundry-fresh feeling all day. The packaging is compact and super-convenient to take anywhere as a way to freshen up on the go.
Why We Love Fabric Disinfectant Spray?
All-natural fabric disinfectant spray
Formulated with

 

pure-grade essential oils
Lavender essential oil and grapefruit essential oil blend
Compact sized bottle
Safe for skin
Keeps gym clothes fresher for longer
For use on all clothing
Infuses clothes with a fresh and alluring scent
Freshen clothes and perk up senses
100% vegan and cruelty-free disinfectant spray for clothes
How to Use Fabric Disinfectant Spray?
This fabric disinfectant spray is the best way to keep clothes fresh in a natural way. With no artificial fragrance or chemicals, you won't experience any skin irritation. So, how do you use this disinfectant clothes spray? Read on for some of our favourite tips.
Eliminate everyday odours
As you move through the day, your clothes retain odours. Some are pleasant, and others not so much. Make sure you always smell your best by keeping a bottle of our disinfectant spray for clothes. You're just a spritz away from confidence in any situation.
Keep gym clothes super-fresh
We all know sweat can be stinky, but why endure foul odours between washes? Instead, stash a bottle of fabric disinfectant spray in your gym bag and spritz clothes after every workout.
Focus on your training when you get a whiff of this uplifting and motivating disinfectant clothes spray. You'll get rid of bad smells and bacteria. It's convenient if you're trying to limit your laundry due to your eco-lifestyle.
Freshen-up household fabrics
This tip is for people without pets because we know essential oils can harm our furry friends. This fabric disinfectant spray is a natural way of keeping sofas, cushions, bedsheets, and rugs revitalized and disinfected, thanks to 100% organic ingredients.
Vacation laundry saviour
Who wants to do laundry on vacation? No one! Add a compact bottle of this cloth disinfectant spray to your suitcase. If you want to wear your favourite shirt 3 nights in a row, you can. Just spritz on this effective formula, then hang it up to air out the fabric overnight.
Stay cool, calm, and collected
Whether you have an important work meeting, a first date, or changing office wear to party wear, don't fret about how you smell. Keep this disinfectant clothes spray with you for a massive confidence boost in any situation.
You maintain proper hygiene and ensure skin is refreshed, so why neglect clothes? Smelling great is necessary for wellbeing, and clothing can harbour many unpleasant odours. We formulated this fabric disinfectant spray with our favourite essential oils to maximize freshness and eliminate bacteria.
Both lavender and grapefruit essential oil effectively combat germs and odour-causing bacteria, naturally keeping your skin safe from harm. There's no better way to keep the stink at bay than a few spritzes of our 100% all-natural, essential oil-based disinfectant spray for clothes.
FAQ
Q1: How long does the cloth disinfectant spray last?
You'll notice an instant boost of freshness after the first spray, which lasts up to 24 hours. This fabric disinfectant spray is perfect for between washes or an immediate dose of invigoration for your clothes as and when you need it.
Q2: Does the disinfectant clothes spray cause skin irritation?
No. Our formula is 100% natural and is super-safe for even the most sensitive skin. In addition, our fabric disinfectant spray sets us apart from regular cloth disinfectant sprays which are usually full of artificial and toxic ingredients.
Q3: How much fabric disinfectant spray do I use on each item of clothing?
We suggest misting an even amount over the entire garment. If your clothes are clean but need a refreshing boost, use 2-3 sprays for maximum impact.
Q4: Can I spray on wet clothes?
For best results, spray on dry clothes. The dry fabric will retain the formula, but it may evaporate with moisture if it's wet.
Q5: Is the 43 Clothing Refresher Spray vegan?
Yes. All-Way of Will products are 100% vegan and not tested on animals
---